Good Day KCE Bed Blog Followers!
We have contacted the One Care Media Company, Sleep Foundation on 3 occasions since January of this year and they still do not speak to our redesign of the adjustable bed for side sleep.  We will contact the organization again and bring their attention to the adjustable bed for side sleep.  Following is an interesting article that continues to overlook the KCE Beds adjustable bed design:
Sleepfoundation.org is reader-supported. We may earn a commission through products purchased using links on this page. Learn more about our process here
Best Adjustable Beds of 2021
The term "adjustable bed" refers to any mattress base that can be adjusted for the upper and/or lower body. The beds were first used in hospitals to make patients more comfortable, and have since been introduced as a mainstream product. Modern adjustable beds offer additional perks for owners. Many of these models can be set for zero-gravity, a position that places the legs higher than the head which can be helpful for people with lower back pain.
Other advanced features may include massage functions, timed adjustments, vibrating alarms, and USB ports. Price-points vary by size and model, but most adjustable beds cost between $1,000 and $3,000. Our team used rigorous testing methods to determine which adjustable beds are worth purchasing and why. Our top pick selections offer comprehensive information on each model's specifications as well as why we think they're noteworthy.
Our testers come from a variety of weight groups and sleeper types so that we can accurately gauge who will prefer each adjustable bed. Our choices are based on a combination of in-depth research and product testing. We also examine each model's value, features, and warranty information. Below our top picks, you'll find the buyer's guide which highlights the pros and cons of adjustable beds and explains more about how they work, what they offer sleepers, and how to find the best one for you.
It's important to note that not all mattresses are compatible with adjustable beds. Mattresses with firmer feels or dense coil systems may not offer enough flexibility for owners to truly take advantage of their adjustable bed's customization. Additionally, most of these bases are not compatible with twin size mattresses. The best mattresses for adjustable beds include memory foam, latex, and hybrids with softer feels and more flexible designs.
If you're in the market for a new adjustable bed, the 4th of July is a great time to shop. Many brands offer their biggest discounts of the year around this time, with sales starting a week before the holiday and often lasting into the second week of July. Check out our list of July 4th sales, or keep reading below to see what discounts are available for our top adjustable bed picks.
Product Details
Best Overall
Nectar Adjustable Bed Frame
Mattress Type: Adjustable Bed
Firmness: N/A
Trial length: 50 nights
Warranty: 3 Year, limited
Sizes: Twin XL, Full, Queen, King, Split King
Who it's best for:
Heavy snorers and people with sleep apnea
Sleepers who experience aches and pains in isolated areas of their body
Value seekers
Highlights:
Head, foot, and zero-gravity positions
Zoned massage with 15-minute sessions
Wireless remote and two USB ports on each side
Use this SleepFoundation.org link for the most current discount on Nectar mattresses
Adjustable beds tend to be somewhat pricey, especially models loaded with bonus features, but some bases carry a lower sticker price without sacrificing quality or durability. The Nectar Adjustable Bed Frame is a great option for shoppers with limited budgets. The base offers a wide range of positions, including zero-gravity, and couples have the option of ordering a split style.
The bed frame also features a sophisticated massage function that can be programmed to alleviate pressure in three different zones of the body. This makes the base a good option for people who experience discomfort in their shoulders, lower back, hips, and other specific areas.
Programmable memory settings allow you to adjust the bed to your preferred positions with the click of a button. A wireless remote is included with purchase, and the bed is equipped with a USB port on each side for charging your devices at night.
The price-point for this adjustable bed is fairly low compared to competing models. Nectar also ships this product free-of-charge throughout the contiguous U.S. You'll receive a 50-night sleep trial with your order, which includes free return shipping, and a three-year warranty that covers all components of the bed.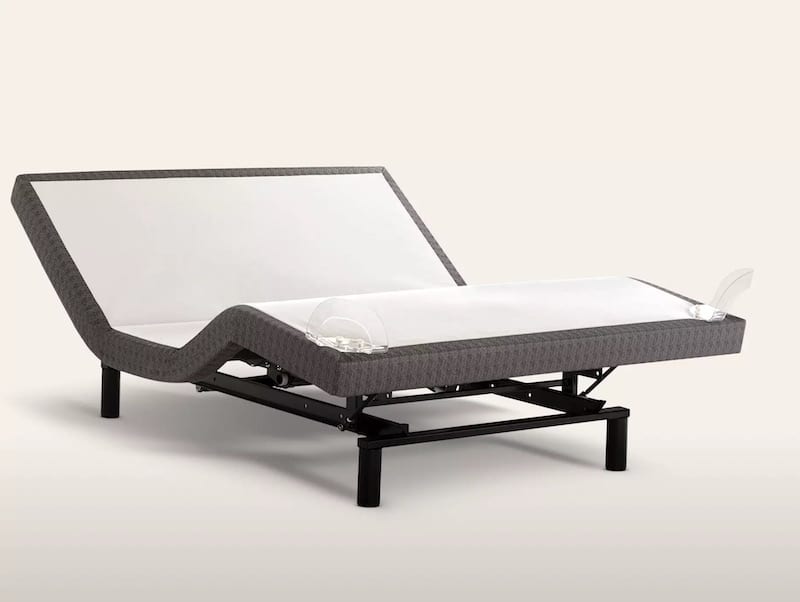 Best Luxury
Saatva Lineal Adjustable Bed Base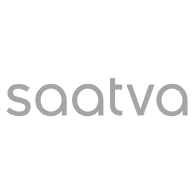 Mattress Type: Adjustable Bed
Firmness: N/A
Trial length: None
Warranty: 25 Year, limited 5 years for electrical parts
Sizes: Twin, Twin XL, Full, Queen, King, Split King, California King, Split California King
Who it's best for:
People with lower back pain
Those looking for a bed with massage features
Anyone who does not want to set up the bed themselves
Highlights:
Zero-gravity setting elevates feet above head
Customizable massage feature
Free White Glove Delivery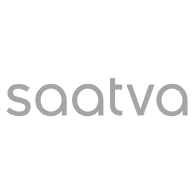 Use this SleepFoundation.org link for the most current discount on Saatva mattresses
The Saatva Lineal Adjustable Bed Base is a versatile base that offers an array of customizable features. Owners can adjust the bed for a wide range of positions and save their favorite head-and-feet alignment settings for  for common activities such as sleeping, reading, or watching TV. Preset settings may be activated at any time with a one-touch remote.
The Lineal offers a zero-gravity setting, which elevates the feet higher than the head. This position is helpful for people who experience lower back pain or enjoy elevating their feet. The massage feature offers options for the head, legs, or full body at three different speeds and levels.
Another noteworthy feature of the Lineal is under-bed lighting, which helps guide you through the dark without having to turn on a bedside lamp. A wall-hugging design ensures that the distance between your bed and wall remains the same, no matter the position of the bed. This ensures your night stand will always be accessible.
Saatva offers two options for the Lineal . The Standard option covers all the features mentioned above. The Upper-Flex option is more expensive and is designed to pair exclusively with Saatva's Solaire, a luxury airbed that can be adjusted to 50 different firmness levels. The Upper-Flex option does not feature the wall-hugging design.
The Saatva Lineal Adjustable Bed Base comes with a 25-year warranty. However, it is not returnable and does not include a free trial. All purchases in the contiguous U.S. qualify for free White Glove Delivery.
Best Quiet Bed
GhostBed Adjustable Base
Mattress Type: Adjustable Bed
Firmness: N/A
Trial length: None
Warranty: Lifetime, limited 1 year for electrical parts (extended 3-year warranty available)
Sizes: Twin XL, Queen, Split King
Who it's best for:
People with lower back pain or sleep apnea
Couples with different comfort preferences
Those who want a bed with massaging capability
Highlights:
Wide range of head and foot positions, including zero-gravity
15 massage modes
Under-bed LED lighting and dual USB ports on each side
Get 40% off a GhostBed Adjustable Base Combo Bundle.
The GhostBed Adjustable Base is a bed that offers a versatile range of upper and lower body positions. These include presets for watching television and lounging, as well as a zero-gravity setting for people with lower back pain or high blood pressure. Additionally, the anti-snore preset – which elevates the head slightly while keeping the rest of the bed flat – can be helpful for people with sleep apnea.
The base is also equipped for massages on both sides of the bed. You can choose from 15 different modes based on intensity and target area. All positions, presets, and massage functions are controlled using a wireless remote. Other high-tech features include LED lighting beneath the bed for added visibility in the dark and a USB port on each side for powering up devices at night.
The base is available in a twin XL and queen size, as well as a split king for couples who prefer different positions while they sleep. A sturdy retainer bar at the foot of the bed and a non-skid surface both help keep the mattress in place without shifting around too much.
The GhostBed Adjustable Base is fairly affordable compared to other adjustable beds, especially models that share its advanced features. GhostBed offers free shipping within the contiguous U.S. The base comes with a lifetime warranty that covers all components for one year, and the frame for as long as you own the bed. An extended warranty that covers all parts for three years is available for an added charge.
Best Massage Feature
Amerisleep Adjustable Bed+
Mattress Type: Adjustable Bed
Firmness:
Trial length: None
Warranty: 10 Year, Limited
Sizes:
Who it's best for:
People who often wake up sore or achy
Those who use smart hubs in their homes
Shoppers who would rather not set up their adjustable bed themselves
Highlights:
Full-body massage feature can be programmed for different intensity levels
Adjustable legs with 4 height options
Free White Glove delivery for all contiguous U.S. orders
Use this SleepFoundation.org link for the most current discount on Amerisleep mattresses
Massage functions are a common feature on adjustable beds, but some are more versatile than others. The Amerisleep Adjustable Bed+ is a standout base, thanks in part to the full-body massage option that produces gentle waves to alleviate pain and tension in your most sensitive areas. You can program this feature at three levels ranging from mild to intense, depending on how much TLC your body needs on any given night.
Adjustable legs are another helpful asset. By raising or lowering the legs, you can set the bed to a profile of 6, 9, 12, or 15 inches. An LED light under the bed prevents you from tripping or stubbing your toes in the dark no matter which height you choose. For range of motion, the head and legs can be elevated up to 60 and 35 degrees, respectively. The generous head tilt is particularly beneficial for people who snore. The bed is compatible with both Alexa and Google Home.
The Adjustable Bed+ is available in five sizes, including a split king for couples with differing preferences when it comes to head and foot angles. Amerisleep offers free White Glove delivery for all customers in the contiguous U.S. This includes scheduled delivery and full in-home setup, though buyers should note this service does not extend to any mattresses if they bundle their order. Each purchase is backed by a 10-year warranty.
Best Value
Brooklyn Bedding Ascension Luxe Adjustable Power Base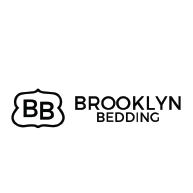 Mattress Type: Adjustable Base
Firmness:
Trial length:
Warranty: 10 Year, Limited
Sizes: Twin XL, Queen, Split King
Who it's best for:
Couples and those who weigh over 230 pounds
Value seekers
People who snore or have acid reflux
Highlights:
Head and foot tilt options help promote spinal alignment
Supports up to 850 pounds
Built-in USB charging ports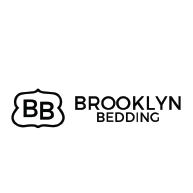 Use this SleepFoundation.org link for the most current discount on Brooklyn Bedding mattresses
The Ascension Luxe Adjustable Power Base by Brooklyn Bedding boasts features that go above and beyond what a traditional bed base typically offers, especially when you consider its attractive price-point. The Ascension has a high-quality build and convenient tech solutions that set it apart from other budget-friendly adjustable bed frames.
Brooklyn Bedding's base has preset positions for postures commonly used while you're watching TV, lounging, or trying to prevent snoring. You can also program your wireless remote to remember specific angles and positions, as well as lock the base into place. Dual controls let couples in split beds adjust their side separately from their partner. Built-in USB ports allow for easy charging while you sleep and a flashlight within the remote ensures simple nighttime use.
The base itself can support up to 850 pounds including your mattress. It's compatible with all of Brooklyn Bedding's mattresses but can also be used with hybrids and all-foam models from other brands. Its six extendable legs provide up to 10 inches of space beneath the base.
Brooklyn Bedding offers the Ascension Luxe Adjustable Power Base with a 2-year limited warranty that covers replacement parts. Bed bases ship free to shoppers who live in the contiguous U.S.
Most Supportive
Dynasty DM9000s Series Adjustable Bed
Mattress Type: Adjustable Bed
Firmness: N/A
Trial length: None
Warranty: 20 Year, limited 10 years for parts and labor
Sizes: Twin XL, Full, Queen, King, California King, Split California King
Who it's best for:
Sleepers with back pain
Couples with differing position preferences
Those who struggle with getting in and out of bed
Highlights:
Innovative wall-hugging technology keeps your nightstand within easy reach
Lumbar support bar alleviates pain and pressure in the lower back
Independent head, chest, and foot positioning for optimal adjustability
SleepFoundation readers get an additional 6% off the DM9000s Series Adjustable Bed Base Frame with this code: dynastySF
The DM9000s Series Adjustable Bed from Dynasty Mattress is ideal for shoppers who want a base with all the bells and whistles. In addition to a wide range of angles for the upper body and legs, owners can independently adjust their head to read, watch television, or cut down on snoring while they sleep. A patented support bar also rests beneath the lumbar region to alleviate aches and pains for those with lower back problems.
Your mattress shouldn't shift around too much thanks to a retaining bar at the foot of the bed and a micro-hook retention system for added stability. The wall-hugging feature also allows you to elevate the upper half of the bed while keeping your nightstand within reach. The bed is a great choice for people who enjoy massage functions. You can time head and foot massages for 10, 20, or 30 minutes using the wireless remote.
Adjustable legs are also a helpful feature if you have a hard time getting in and out of bed. The legs can be lowered to a profile of 6 inches off the ground. Choose from seven different sizes, including split king and split California king for couples with different preferences. As an added bonus for bedtime music listeners, the bed is equipped with Bluetooth-compatible speakers on both sides.
Dynasty Mattress provides free ground shipping for all orders in the contiguous U.S., and White Glove delivery is available for an added charge. The bed comes with a 10-year repair and replacement warranty on all components, including electrical parts, and a 25-year warranty for the frame.
How to Choose an Adjustable Bed
Some people find lying on a completely flat surface uncomfortable and prefer a more angled position for their upper and/or lower body. If this applies to you, then you're the ideal candidate for an adjustable bed base.
Choosing an adjustable bed may require some research on your part. Determining your budget and desired size are important first steps, as adjustable bases can cost anywhere from less than $1,000 to more than $3,000. We also recommend comparing multiple models to see which ones are best suited for your needs.
What to Consider When Buying an Adjustable Bed Frame
A wide range of these beds are available, ranging from bare-bones designs to high-tech models loaded with extra features. Before purchasing an adjustable bed, you should consider a handful of factors. These include range of adjustability, weight limit, price-point, warranty coverage, and whether or not your current mattress is compatible with this type of base.
Mattress Compatibility
Today's adjustable mattress bases are designed to be compatible with most mattress models, such as foam, latex, and hybrid beds, but there are some exceptions. Innersprings – especially firmer models – may be too inflexible to deliver a full range of motion on an adjustable bed. Weight may be another issue since many adjustable beds have weight limits of 750 pounds or less. Additionally, adjustable beds are almost never sold in twin sizes and full sizes are also somewhat rare.
Available Sizes
Adjustable beds are typically sold in twin XL, queen, king, and California king sizes. These models are best suited to single sleepers or couples who have the same positioning preferences. A large number of brands also sell adjustable bases in split king and split California king sizes. These are intended for couples who like different adjustment settings on their side of the bed.
Features
The selection of extra features on an adjustable bed is often tied to its price-point. For bases priced at less than $1,000, expect a more minimalist design. Extra add-ons such as massaging, wall-hugging technology, or built-in speakers will most likely drive up the price. In the next section, you'll find an in-depth look at different adjustable bed features.
Remote
Older adjustable beds often came with wired remotes connected to the adjustment system. While some newer models may retain this feature, most come with wireless remotes. These remotes are often backlit for easier viewing, and some come with built-in flashlights. In some cases, the bed will include a remote cradle.
Noise
Most adjustable beds produce some noise when inclining or declining, but newer models are rarely loud enough to be considered disruptive. That said, light sleepers may wake up more easily if their partner makes adjustments during the night.
Price
Expect to pay at least $1,000 for a queen size adjustable bed. For a model with extra features, the price will probably be closer to $2,000 for a queen size. Some brands incentivize customers with discounted product bundles that include the bed as well as a new mattress, pillows, sheets, and other accessories.
Assembly
Some beds are easier and less time-consuming to assemble. However, most bases shipped through standard ground delivery are fairly straightforward to put together. A few brands offer White Glove delivery if you'd rather have a professional assemble the bed.
Weight
In a queen, king, or California king size, most adjustable beds weigh between 140 and 200 pounds. Split king and split California king sizes tend to be the heaviest, usually in the range of 240 to 280 pounds. Keep this in mind when deciding which room to set up the bed, since you'll also need to account for your own weight as well as the mattress.
Weight Limit
This is an important spec to check because you'll need to take your weight, your partner's weight, and the mattress weight into consideration. Most adjustable beds made today offer a weight capacity of 650 to 900 pounds.
Warranty
Adjustable bed warranties are typically a bit different than mattress warranties. For one, they're usually longer – a 20-year or lifetime warranty is fairly common. However, the motor and electrical components will probably be covered for two to five years. The remaining warranty coverage will only apply to the bed's mechanical frame.
Features of Adjustable Beds
At minimum, most adjustable bases can be adjusted for the upper and/or lower body. They should also include a retaining bar, micro-hooks, or some other mechanism for keeping the mattress in place without shifting around too much. Remotes are also standard. More advanced models may be equipped with extra features and presets, as well as a wider range of adjustment options.
| Feature | Description |
| --- | --- |
| Upper and Lower Body Adjustment | Some adjustable beds can be elevated at the upper or lower body only, but these models are fairly rare. Most sold today can be raised at both the upper and lower body. A small number of models feature an additional head-tilt option that does not affect the rest of the upper body. |
| Range of Motion | Range of motion for an adjustable mattress base will depend on the model. In most cases, the upper body can be elevated up to 60-80 degrees and the lower body can be elevated up to 30-40 degrees. |
| Dual Adjustment | Adjustable beds in split sizes offer dual adjustment, which allows the person on each side of the bed to program different settings. If you and your partner disagree on the best angle for the upper and lower body, then a split size will be ideal – though keep in mind these models tend to be expensive. |
| "Zero-Gravity" Preset | With the zero-gravity setting, your legs will be elevated higher than your head to produce a "weightless" feeling. Many people find this position comfortable, including those with lower back pain and low blood pressure. |
| Anti-Snoring Preset | The anti-snoring preset elevates the head slightly higher than the rest of the body. This position can reduce snoring for people with medical conditions like sleep apnea, as well as those who naturally snore at night. |
| Customizable Height | Some adjustable beds feature legs that can be raised or lowered to different profiles. These best serve people who have a hard time getting out of bed. A typical profile range for adjustable legs is 6 to 10 inches. |
| Timed/Automatic Adjustment | With timed adjustment, you can program the bed to automatically adjust to different angles at different times throughout the night. This feature is somewhat rare and usually limited to higher-end models. |
| Memory Presets | Memory presets are a common feature for today's adjustable bases. By pressing a button on the remote, your bed will adjust to the position of your choice. Most adjustable beds offer at least one or two memory presets, but some offer five or more. |
| Wall-Hugging | Adjustable beds with wall-hugging technology will scale back slightly as the surface elevates. This allows you to easily reach your nightstand even in an inclined position. This is another feature that is normally found on more expensive beds. |
| Retention System | To keep the mattress from sliding around, many adjustable bases feature a retainer bar at the foot of the bed. Others hold the mattress in place with a micro-hook retention system. In some cases, the bed will have both the bar and the micro-hooks. |
| Massage | A growing number of adjustable bed manufacturers are including this component on their models. The "massage" consists of a rippling sensation that can be felt at the upper and/or lower body. The number of massage modes, or intensity levels, will vary. |
| Alarm | Some adjustable beds offer a silent alarm. Like massage functions, the alarm is composed of gentle ripples along the surface meant to wake you up without blaring sounds. |
| Base Lighting | LED lighting underneath the bed is a standard feature of today's adjustable base models. These lights help you avoid stubbing your toe on obstacles and also allow you to see beneath the bed more clearly. |
| USB Ports | USB ports are commonly found on modern adjustable bases. Typically, the bed will feature one or two ports on each side, allowing you to charge devices while you sleep. |
What Are the Pros and Cons of Adjustable Beds?
Adjustable beds offer a handful of advantages for different types of sleepers, but there are also some drawbacks to consider before purchasing this type of base.
Pros
Cons

Range of motion varies by model, but most adjustable beds can be adjusted to a wide array of positions for the upper and lower body.
Most adjustable bed models are available in split sizes for couples seeking dual adjustment.
People with lower back pain often benefit from using an adjustable base, especially models with zero-gravity presets.
Adjustable beds can also be inclined around the head to reduce snoring and alleviate symptoms of sleep apnea.
Wireless remotes and USB ports are considered standard features of today's adjustable beds.

Adjustable beds vary in price, but the minimum price for most queen size models is $1,000. This represents a significant investment for most households.
Adjustable bases are usually not compatible with innerspring mattresses, twin sizes, or excessively heavy models.
Adjustable beds have relatively short expected lifespans. Despite long warranty coverage periods for the frames, their electrical components often malfunction or stop working after a few years.
Most adjustable bases are quite heavy and may not be suitable for some dwellings.
In many cases, you'll need to assemble the bed yourself.
Frequently Asked Questions
What is the best adjustable bed?

Every adjustable bed has pros and cons. When shopping for one of these beds, consider your personal needs and preferences to find the best model for you and your partner.

A low-cost adjustable bed may be the most feasible option for shoppers on a budget. These beds usually don't have the bells and whistles you'll find on a luxury model, but they will at least elevate the head and be compatible with most mattresses of corresponding size. Don't let the price fool you – an affordable bed can be a valuable investment for people who live with back pain or frequently snore. It may even outperform some of its costlier competitors in certain areas.

A high-end adjustable bed equipped with extra features will probably cost more money. The same is usually true with models that offer enhanced range of motion for elevating the head and feet. A pricier model may be worth the investment if you enjoy massages while you sleep, dislike the noise of a traditional alarm clock, or want to keep your nightstand within reach no matter how high your head and feet are raised. Just keep in mind these luxury beds can easily cost $2,000 or more.

What type of mattress is best for adjustable beds?

The best mattresses for adjustable beds include all-foam, all-latex, and hybrid models with softer feels, lower weights, and shorter profiles that give them added flexibility. These mattresses allow you to feel the full effects of upper and lower body adjustments. Additionally, mattresses need to be twin XL or larger in order to be compatible with most of today's adjustable beds.

Are adjustable beds worth it?

Adjustable beds can be pricey, but many sleepers consider them worth the investment. Anyone who feels uncomfortable lying prostrate and prefers sleeping with their head/feet elevated should consider an adjustable bed. Raising the head can also help people with conditions like sleep apnea or acid reflux, as well as those who heavily snore. Some adjustable beds have a smart "snore response" feature and will automatically elevate the head whenever you start to snore.

Adjustable beds sold today are available with a wide array of features, from bare-bones minimalist designs to high-tech models equipped with cutting-edge technology. Some of the flashier features include built-in massage functions for people who want relief from aches and pains while they sleep, vibrating alarms that make waking up more pleasant compared to blaring alarm clocks, and under-bed lighting to help owners avoid stubbing their toes in the dark. A newer feature known as "wall-hugging technology" allows you to elevate your side of the bed and keep your nightstand in reach – a major perk to people who read in bed or want access to their TV remote.

Some high-end adjustable beds are also engineered to track sleep data using tiny sensors. This allows you to monitor how much time you spend asleep and awake at night, as well as position changes and other nighttime movements. Some of the more sophisticated trackers also report heart rate, breathing rate, and other health metrics. You can access the data with a smartphone app to compare the results from night to night.

If any of these features and functions sound appealing, then you may be a great candidate for an adjustable bed. Keep in mind that the more features a bed comes with, the higher its sticker price will probably be.

How much do adjustable beds cost?

The cost of an adjustable bed depends on the brand, model, and size. You may be able to find some twin XL models priced at less than $1,000, but this is a base price for the majority of beds in a queen size or higher. At the more expensive end of the spectrum, advanced adjustable beds equipped with a wide range of features can easily exceed the $3,000 mark. Additionally, models sold in stores frequently cost more than those purchased from online brands.

Who makes a split queen adjustable bed?

Split queen adjustable beds are widely available from online and brick-and-mortar brands. The same is true for split king and split California king. As their name implies, these sizes are divided lengthwise down the center of the mattress. The split allows sleepers to elevate or lower their own side of the bed without affecting their partner's settings.

Split queens can be useful for couples with different angle preferences, or if one person has aches and pains that necessitate elevating the head and feet while the other prefers lying on a flat surface. However, it's important to note that split queen adjustable beds often cost more than standard queens. In some cases, the difference in price can amount to hundreds – or even thousands – of dollars.

How do I assemble an adjustable bed?

Ease of assembly also varies by bed, but most models have straightforward designs that shouldn't require too much time or frustration. Follow directions carefully. If you get stuck, reach out to the brand's customer service department via phone, email, or live webchat. Some companies feature how-to-assemble videos on their websites, as well.

How can I get in a zero gravity position on an adjustable bed?

When you're in the "zero gravity" position, your legs and feet are elevated at a higher angle than your head. This creates a feeling of weightlessness that can alleviate lower back pain. The zero gravity position can also benefit people with low blood pressure and other circulatory issues.

Zero gravity is a standard feature on today's adjustable beds, many of which allow you to elevate the head and feet at a wide range of different angles. However, some do not include this option. If zero gravity is important to you, make sure the adjustable bed you'd like to buy allows this type of positioning.

What's the best way to keep sheets on an adjustable bed?

If you don't properly anchor your bedding before elevating your adjustable bed, then your flat sheet – and possibly even your fitted sheet – may fall out of place.

Each fitted sheet has a "pocket depth," which refers to the tallest possible mattress the sheet can be used with. If the profile of your mattress exceeds the sheet's pocket depth, then the elasticated corners can easily slip off. Make sure the sheet and mattress are compatible.

You may be able to anchor the flat sheet by simply tucking its edges beneath the mattress. If this doesn't work, consider a flat sheet with corner straps that grip the fitted sheet and provide extra stability. You can also invest in a "sheet suspender," which is essentially a large rubber band that runs around the side of your mattress and keeps the flat sheet in place.

Can I return my adjustable bed if I don't like it?

Unfortunately, most adjustable beds sold today do not include a sleep trial. After you receive the base in the mail, you won't be able to return it for a refund. Brands that offer sleep trials generally limit them to 30 nights or less; there are some exceptions to this rule, but check for expensive return fees in these cases.

How is an adjustable bed warranty structured?

An adjustable bed's warranty will almost always cover the product for at least ten years, and 20-year and lifetime warranties are fairly common. However, different components of the bed are subject to different coverage periods. Here's what a typical adjustable bed warranty looks like in terms of structure:

Year 1: The brand will repair or replace any part of the bed at no extra cost to you, including the motor and other electrical components. However, you may need to pay some nominal roundtrip transportation and inspection fees.
Year 2-3: The warranty still covers all components, but you'll need to pay additional fees for repairing or replacing electrical components.
Remainder of warranty: After two to three years, the electrical components are not covered under warranty. Coverage is limited to the frame and other mechanical components.