Hello everyone,
We are not affiliated with any mattress company.  Although we do continue to research the many mattresses on the market today and inform the public of mattresses that do have a 6-inch base layer to function optimally with KCE Bed adjustable bed.  The following information for the Cuddle Mattress shows that the mattress will not function with the KCE Bed.  Not only can we not locate a way to purchase this mattress, we do not believe the mattress is actually a product for sale.  And this type of mattress will not function with the KCE Bed adjustable bed due to the foam configuration.
https://www.mattressnerd.com/cuddle-mattress-review/
https://www.slumbersearch.com/cuddle-mattress-reviews
https://www.thisiswhyimbroke.com/cuddle-mattress/

Disclosure: By clicking on the product links in this article, Mattress Nerd may receive a commission fee at no cost to you, the reader. Read full disclosure statement.
Cuddle Mattress Review
We should embrace a company that wants to make it easier to snuggle with your partner as you sleep. This mattress maker has a name to match its mission. Here we introduce Cuddle.
Nerd Score: 4.5/5
Our Verdict: The Cuddle Mattress may be the most audience-specific product on the market. The design is specifically engineered for couples to cuddle, without putting unwanted pressure on their limbs while doing so. If you fit into this category, give Cuddle a try! If you are on the hunt for a traditional mattress, this is probably not the best option for you.
Who the Cuddle Mattress is Best For
Best For…

May Not be Best For…

✅Couples who like to cuddle

✅Hot sleepers

❌ People with back problems

❌Sleepers wanting a traditional mattress
Cuddle In-Depth Review 
The Cuddle mattress company came onto the scene in 2013 with the tagline, "Sleep better. Cuddle longer."
This company was started on the basis of how difficult it is to snuggle comfortably. Your limbs fall asleep or lose sensation due to a lack of blood flow from the additional weight placed on your wrists or arms, making an uncomfortable experience for all involved. Instead of placing additional material on top of the mattress base,  The Cuddle Mattress started thinking "bottom-up" instead of "top-down."
This thinking resulted in an innovative design using multiple slats. The slats are arranged like books on a shelf, lying flat on a mattress base. Now, imagine you're lying on top of those slats. When you reach out to cradle your significant other, you can slip your arm down in between two of the slats. Your arm is around your partner without taking all of the weight. You're close, but not uncomfortable.
My head exploded when I first looked at the design. Cuddle Mattress offers customers, two models, each using different types of foam—the MPU is made with some heat-diffusing gel and the PU with straight foam. Overall, the design is smart in its own way. It's innovative thinking to solve a specific problem. But does it deliver an overall sleep experience that works for many people? Let's take a look.
Cuddle Highlights
The design, obviously. Individual slats that you can shove your limbs into so you are not bearing the weight of a partner.
Couple-specific. I write a lot of reviews and there are certain features that can be construed as specific to how couples sleep. (Yes, edge support.) However, this mattress company went all-in on thinking about what troubles couples at rest.
Flippable. Yes, one side is medium. Flip it to get a firmer feel, more like a medium-firm. (Firmness is a relative and depends on your weight and preference.)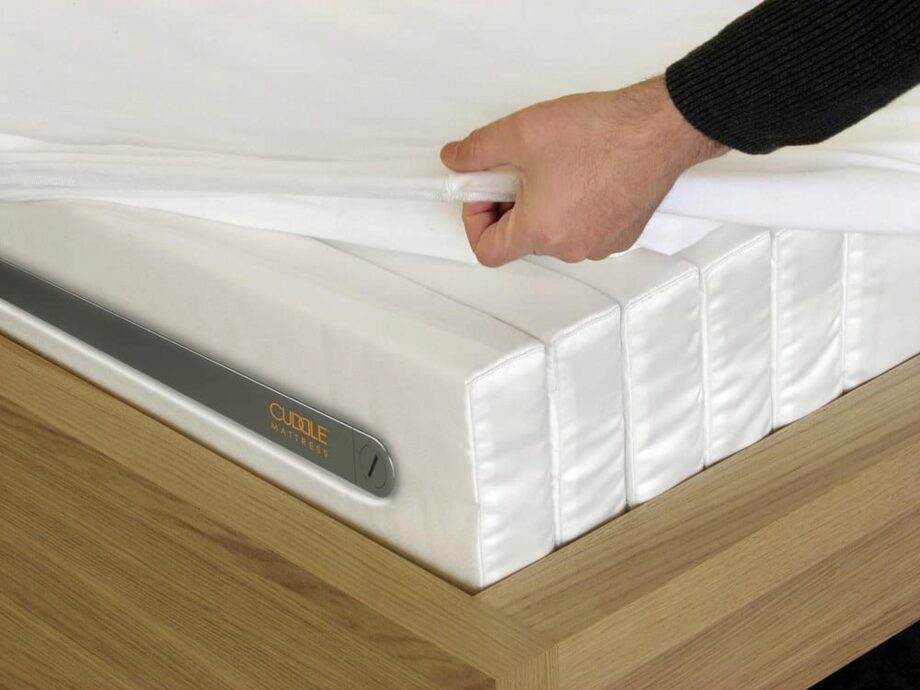 Cuddle Mattress by Sleeping Positions
Side sleepers may find this mattress is a decent solution for all of their contouring needs in the shoulder area to rest comfortably on their sides. You can stick your arm inside the mattress slats, so it won't press your shoulder out of alignment, making this a one of the best mattresses for side sleepers.
Stomach sleepers may find comfort by shoving their feet in between the slats at the bottom of the bed. The main idea behind good sleep is keeping your spine in alignment. The straighter the spine, the more likely you are to wake up without soreness or stiffness. Since it would be nearly impossible to sleep face down on our stomachs, we turn our heads and contort our legs to get comfortable, which isn't great for our backs. At least, putting your toes between the slats may give you a better line in the spine as you rest.
Back sleepers could eventually struggle most on this mattress. There are too many moving parts to assure that it will support your hips and back with long-term use.
Pros

Cons

A truly new idea in the mattress marketplace

Addresses a specific issue for couples.

Can flip the mattress to change the firmness from medium to medium-firm.

Comes with a stretchy top sheet to make it easier to move your limbs between the slats.

Manufactured in the U.S.

Your own top sheets may make it difficult to shove your limbs into the slats.

Many moving parts, which hinders durability. (Mattresses need stability to remain durable.)
Cuddle Mattress Firmness
Both versions of the Cuddle Mattress can be flipped if you want to adjust the firmness level. One side is medium and the other is a medium-firm feel.
Cuddle Mattress Construction
The Cuddle Mattress is made of slats that are pushed together to form sections of the mattress surface. The company sells the Cuddle Mattress Memory Gel version and the PU version. The memory gel provides a cooling feature, so that model would be the best option for people who sleep hot.
At both ends of the mattresses, there are six of the foam slats. This means the middle portion of the mattress is a solid section, not slatted like the head and foot of the bed. So, no worries, this mattress can still be used for everything else that happens in the bedroom! The slats allow sleepers to slip arms or legs into the mattress, alleviating any pinching and leaving the weight off of the limbs.
As far as the slat construction is concerned, there are three layers.
The first is the comfort layer. It is 2 inches of memory foam to curve around the widest parts of the body—shoulders and hips for side sleepers, booty for back sleepers, and tummy for stomach sleepers. (The cooling gel in the MPU version is within this layer.) Since it's thicker than the third layer, if you flip the mattress to have this layer is on top, the mattress will have a medium firmness.
The second is the support layer. It is 5 ½ inches of high-density foam for spinal support.
The third layer is 1 inch of memory foam. (This layer is also gel-infused for cooling in the MPU model.) Since it's thinner if you have this layer is on top, you'll get a firmer feel.
---
Cuddle Mattress Buying Experience
Shipping, Delivery and Returns
When I accessed the Cuddle Mattress website to write this review, it showed this warning at the top of the page. FYI.
"Due to high demand and limited production, all orders received by the 20th of each month will be shipped by the end of the following month."
Now that we're all informed … Cuddle Mattress will ship for free in the continental U.S. If you're ordering from anywhere else, you will have to pay shipping fees.
The mattress arrives unassembled. So that means you do have to assemble the mattress yourself, but it's a simple enough process. You'll just have to lay the slats down by inserting metal rods into each layer.
The Cuddle Mattress Trial Period 
There is a 90-day trial period with your Cuddle Mattress. The company requires you to sleep on the mattress for 60 days before you try to return it. You need time to adjust to any new sleep surface, but this is about a month longer than almost every other company in the business.
Warranty
You get a 25-limited year warranty with this mattress. Cuddle Mattress will decide if it will repair or replace any problematic unit due to faulty materials or craftsmanship. You must be the original purchaser to take advantage of the warranty. You must use a firm, solid foundation for the Cuddle Mattress. If you don't, you void your warranty. It also covers visible indentations over ¾ of an inch and any flaws in the mattress that causes it to split and crack.
Availability 
You can purchase a Cuddle Mattress on the company website or at retail outlets. There was no list or locator app on the website to sort out where the retail locations are.
Cuddle Mattress Rating and Conclusion
I remain impressed that someone thought to cut into a mattress from top to bottom, creating sections that you can put your hands, arms or feet into to create a more comfortable sleep experience for couples. It's brilliant.
However, the Cuddle Mattress is something of a niche product. That's not a bad thing, just a specific thing. Couples and some side and back sleepers may get the most out of it, but not everyone will find it comfortable over time.
Slumbersearch Review:

Slumber Search is supported by readers. Some links on Slumber Search are referral links. If you use one of these and buy something, Slumber Search may make a small amount of money. More info.
Cuddle Mattress Reviews
As of 2021, Cuddle no longer sells mattresses. The Cuddle Mattress has a wild design and has been gaining popularity through its huge publicity its gotten on TV and other media. With a brilliantly, innovative design, the Cuddle Mattress makes it easier to snuggle up next to your partner with individually wrapped foam layers that allow you to hide your arm around your partner while they lay flat against the mattress. Is it just a marketing gimmick? We think it is pretty cool, but there are some negatives about this mattress being your every day sleeper.
Mattress Scores
Overall Score: 7.1/10
Customer Satisfaction: 7/10
Price Value: 7.1/10
No Back Pain: 7/10
Price: $1299-$2099
Trial Period: 90 Nights
See More ScoresGet Yours Now
Cuddle's Specifics

The Cuddle Mattress features memory foam slats for wrapping your arms and legs around your partner. This enhances snuggling and hugging without the negatives concerns of your arms and legs falling asleep. This unique design is the first in the mattress industry and is the main reason for the Cuddle mattress's popularity.
However, there are a many different considerations for a new mattress. It does not seem that Cuddle Mattress has focused on long term support and everyday comfort apart from cuddling.
Quality of Materials

The Cuddle Mattress has two different options: Cuddle Mattress PU and Cuddle Mattress Memory-Gel. The main difference between these is that the gel version has gel-infused foam on the top and bottom layer to diffuse heat. Here is what's inside:
Foot and Head Slats: At the foot and the head of the mattress, there are 6 foam slats that are the same all-foam material as the rest of the mattress. These slats allow arms and legs to sneak under partners without pinching.
Layer 1: There is a generous 2" memory foam layer on the top, which helps with pressure points. In the gel version, this layer has gel-infused swirls, which diffuses heat. The non-gel (PU version), may retain some heat.
Layer 2: The second 5.5" layer is a resilient high-density core foam, which supports the spine.
Layer 3: The last layer is 1" of memory foam (with or without gel infusion). This layer gives pressure point relief and can be flipped for a firmer version.
Overall Comfort
Customers agree that this bed was made for cuddling and snuggling. However, there are some that described back pain issues with constant sleeping. Beware, that sometimes the top sheet can make it difficult to rest your arms and legs between the slats.
Expert note: It may be worth getting a fitted sheet that is a size larger than your mattress.
Firmness

The normal orientation of this mattress is medium-firm, which is ideal for most sleepers. You can flip the mattress for a firmer experience. Beware, that there may be some sagging issues if you are a heavier sleeper.
Back Pain Relief
If you are someone that sleeps with your arms around your partner, there may be some initial back and arm pain relief with this mattress. However, the slats may cause your hips and shoulders to sink more over time, which can be painful long term.
Cooling
The gel version of this mattress should do well for those that are warmer sleepers. The PU version may retain heat especially during cuddling.
Who Is The Cuddle Mattress Good For?
The Cuddle Mattress is pretty innovative, but we aren't so sure that it is right for everyone. This is a great mattress for a spare bedroom, but it could cause back issues if used every day.
Browse Cuddle Customer Reviews
 Owner for 5 months – 
Michael S.
Owner for 5 months review:
How is the bed?
1. It does its job well. I sleep all night with my arms wrapped around my wife, no issue; I love it and don't know of any better mattress in the market that can accomplish this task.
2. The marital embrace is (wait for it) amplified by the design of the mattress. Stated simply, the slats throughout it give you leverage other beds simply don't. It's a difficult point to advertise explicitly, and general survey says memory foam is not as great of a product, but the feature is well worth it's weight.
3. The design is not without flaw however. If I were sleeping by myself, I would prefer my twin bed; it's a cuddle mattress, not a comfort mattress. So as comfortable as the memory foam may be, the design of the mattress causes the slats to shift while you sleep, providing inadequate back support. How bad is it? well… I decided to keep the mattress because the perks outweigh the flaws.
Customer Service:
1. They honor what they say and stand behind their product.
2. They are only available by e-mail and range in their responses from 2 minutes to 2 days.
3. They're actually really easy to work with and very patient (I had loads of questions going in and they worked through all of them with me).
4. I actually asked for the first version of the bed because it was more firm, decided to go to the second version so they shipped me a new bed. They took the time to help me save money on return shipping, so they are invested in their customers, which I greatly appreciate.
(TLDR) Conclusion:
Great for married couples between the ages of 18-35. After that, shift to something better for your back.