Good day everyone,
We believe in the comfort factor of KCE Bed and continue to spread the word about this phenomenal new product!
Redesigned Adjustable Bed for Side Sleep, KCE Bed, launched by U.S. Based Kind and Ethical Inc. Tampa, Florida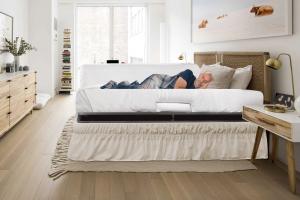 Invented for Your Good Night's Sleep, KCE Bed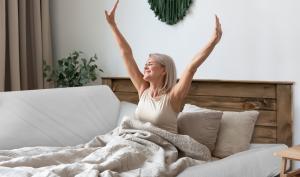 Side Sleeping Adjustable Bed for an Amazing Night's Rest
KCE Bed, the New Design of the Adjustable Bed for Side Sleep
KCE Bed is now available for sale Nationally via e-commerce. Shipped via FedEx Freight for residential delivery.
KCE Bed, Invented for your wellness and good night's sleep!"
— Mary Ann Schell
LARGO, FL, UNITED STATES, June 7, 2021 /EINPresswire.com/ — .
Did you know, side sleeping is the #1 natural sleep position as described by doctors and scientists? Many individuals experience relief from conditions such as sleep apnea, snoring, acid reflux, heartburn, circulation, and body cleanse, high blood pressure, and anxiety when they adopt a side sleeping position.
With this in mind, Mary Ann Schell and Gavin Wilson invented the authentic side sleeping electric adjustable bed. The Kind Cuddle Embrace Bed (KCE Bed), embraces users, encouraging effortless side sleeping to promote health, wellness, and a good night's sleep. Recommended by Doctor of Chiropractic, Dr. Victoria J Vislosky.
The innovative redesign of the KCE Bed adjusts the elevation of the mattress from side to side, embracing users in a comfortable and natural side sleep position. As we sleep in our natural side sleep position we are more comfortable. When we are comfortable we sleep better.
Provided are recent articles on the wellness benefits of side sleep published by, Healthline and the National Library of Medicine.
Understand that both HealthLine and National Library of Medicine are not yet aware of the "new design of the adjustable bed for side sleep".  It will be amazing to read new articles from these sources once the KCE Bed is well known!
Article published by Healthline:
How to Sleep on Your Side Without Waking Up with a Sore Back or Neck
Sleeping on your back has long been recommended for a good night's rest without waking up in pain. However, there are more benefits to sleeping on your side than previously thought.
Research shows that side sleeping is more common among older adults, as well as those with a higher body mass index (BMI).
Despite the benefits to side sleeping, you can only gain these if you get into the correct position. Otherwise, the pain in your spine, neck, and joints will outweigh the benefits of sleeping on your side.
Here's what to know about side sleeping and how to do it correctly:
Benefits of sleeping on your left or right side
While sleeping on your back has long been thought to be the ideal sleeping position, research is showing that side sleeping can have just as many benefits.
When done correctly with the proper body alignment, sleeping on your side can reduce both joint and low back pain, as well as chronic pain associated with long-term conditions like fibromyalgia.
Another benefit to sleeping on your side is reduced snoring, a common symptom seen in obstructive sleep apnea. This serious condition creates disruptions in breathing, which can lead to long-term complications, such as:
Cognitive issues may be prevented with good sleep hygiene, but research is also showing that your overall brain health may benefit from sleeping on your side, too.
Finally, you may get better gut health if you're a side sleeper. This position helps your digestive system function better, which can ease gastrointestinal issues such as heartburn, constipation, and bloating.
Drawbacks of sleeping on your side
Sleeping on your side can offer many benefits, especially if you have recurring back pain or sleep apnea. Still, your body may prefer a bit of variety throughout the night to prevent pain in other areas of your body. This could entail starting on one side and then shifting over to the other.
It's also important to be mindful of your chin placement by keeping your head up on the pillow. Tucking your chin toward your chest will create neck pain.
One notable drawback to sleeping on your side is that it can increase your risk of shoulder pain.
Whether you're on your left or right side, the corresponding shoulder can collapse into the mattress as well as up toward your neck, creating misalignment and pain the next morning.
A firm mattress and pillow can help alleviate this risk, as well as keeping your head straight in line with your shoulders.
Which side is the best to sleep on: Left or right?
Sleeping on your left side is thought to have the most benefits to your overall health. In this position, your organs are freer to get rid of toxins while you sleep. Still, either side can offer benefits in terms of sleep apnea and chronic lower back pain relief.
You don't have to stick with one side the entire night. Feel free to start on your left side and see how your body feels.
It's also normal to shift around while you sleep from side to side, or even onto your back. Sleeping on your stomach is the hardest on your spine and organs, so try to avoid this position if possible
Best mattress type for a side sleeper
You may already have a preference for a kind of mattress — whether it's one that's soft or firm. When it comes to side sleeping, though, a mattress that falls somewhere in between these two spectrums works best.
A soft, cushiony mattress doesn't offer very much joint support. While you may find the softness comfortable on your shoulders and knees at the start of the night, you can wake up feeling achy in the morning. This is due to the fact that your joints are at risk of collapsing and sinking further into the mattress over the course of the night.
Pain may be warded off with a firmer mattress, but you don't want one that's too firm. An extremely hard mattress can be too uncomfortable to fall asleep on because it doesn't support your body shape and sleeping position.
The only way to know if a mattress is your best fit is to try it out.
You can test different types of mattresses at a traditional store, or order a trial version to test at home for a length of time. If you aren't ready to buy a new mattress, another solution is to support a current soft mattress with plywood boards underneath.
Side sleeping best practices
Whether you're a veteran side sleeper or are new to this position, it's important to know the best practices. This way, you can get the most out of this sleeping position without waking up to pain and discomfort the next morning:
Lie down on a medium-firm mattress, using one firm pillow underneath your head.
Shift over to your left side first. Your ears should be in line with your shoulders, while your chin is neutral. Avoid tucking your chin into your chest or keeping your head down.
Keep your arms and hands below your face and neck, preferably parallel to the sides.
Put a firm pillow between your knees (especially if you have low back pain). This helps prevent the collapse of hip and knee joints, thereby creating better alignment in your spine.
Slightly lift your knees up toward your chest to reduce pressure on your back.
Takeaway
Sleeping on your side — in the correct alignment — can offer benefits for both body and mind.
If you continue to have pain, you might consider swapping out your mattress and pillows for firmer support.
See a doctor or chiropractor if you have chronic pain issues despite making these changes.
National Library of Medicine Article:
Sleep apnea and body position during sleep
Affiliations 
Abstract
In patients with obstructive sleep apnea, it is believed that body position influences apnea frequency. Sleeping in the lateral decubitus position often results in significantly fewer apneas, and some have recommended sleeping on the side as the major treatment intervention. Previous studies, although calculating apnea-hypopnea index (AHI) for supine and lateral decubitus positions, have not taken sleep stage into account. To examine the effect of both sleep stage and body position on apnea duration (AD) and frequency, we determined AHI and AD in all spontaneous body positions during rapid eye movement (REM) and non-REM (NREM) sleep by reviewing videotapes and polysomnograms from 11 overnight studies of 7 obese patients with severe sleep apnea. Consistent with previous work, AD was significantly longer in REM then in NREM (32.5 +/- 2.3 s versus 23.5 +/- 1.9 s; p less than 0.05). This difference persisted when adjusting for body position. AHI was greater on the back than on the sides (84.4 +/- 4.9/h versus 73.6 +/- 7.5/h, p less than 0.05), but after accounting for sleep stage, this difference remained only for NREM (103 +/- 4.8/h versus 80.3 +/- 9.2/h, p less than 0.05) and not for REM (83.6 +/- 5.3/h versus 71.1 +/- 4.2/h, p NS). Although reduced, AHI on the sides still remained clinically very high. Body position changed frequently throughout the night, but some patients spent little or no time on their back. We conclude that AD is longer in REM than NREM, regardless of position, and AHI is higher on the back only in NREM. As AHI remains very high on the sides, favoring the lateral decubitus position may not be as beneficial as previously thought in very obese patients. Less obese patients are more likely to benefit by position changes.
*Now returning to our Press Release text:
Mattress Suggestion to compliment Your KCE Bed:
There are many mattresses that will function properly with your KCE Bed and embrace you into a good night's sleep! We understand that your mattress selection depends on personal preference which is why we researched the types of mattresses that will function with your KCE Bed and leave the selection and purchase up to you.
Mattresses made using high-quality memory foam or latex and that have a few layers of memory foam or latex are suggestions. These mattresses should also have a base layer that does not exceed 6 inches. This base layer allows for the mattress to bend and embrace you with the KCE Bed as you adjust the bed to your comfort position. A mattress that will not function optimally with your KCE Bed is made using Hybrid, Coiled, Spring, Water, or Air.
About KCE Bed
KCE Bed is a family-owned and operated small business in the state of Florida, USA. KCE Bed is not mass-produced and quantities are limited. KCE Bed is manufactured using quality materials: steel that is powder-coated for long-lasting protection in a stylish appearance, equipped with supportive wood slats that are spaced for airflow, intentionally assembled with slow-moving motors to allow you to find your perfect embracing sleep position.
Mary Ann Schell
KCE Bed by Kind and Ethical Inc.
+1 813-570-2724
Info@kcebed.com
https://www.einpresswire.com/article/541924658/redesigned-adjustable-bed-for-side-sleep-kce-bed-launched-by-u-s-based-kind-and-ethical-inc-tampa-florida